How to turn on your webcam

---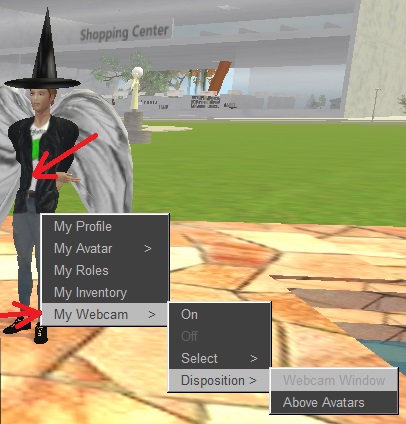 Right-click on your avatar and choose the menu "MyWebcam". If you don't have this menu it means that you are on land where the owner has not authorized webcams, see at the bottom of this page.

The "Select" menu allows you to choose your webcam if you have more than one. It is possible that some of them are duplicates. Those whose names start with DS: use the old interface for Windows 7, the others use the new interface for Windows 10.

Choose menu "On" to turn on your webcam.

The "Disposition" menu allows you to choose if you want to display the webcams in a separate window or above the avatars in the 3D world.


---

Webcam problems

If webcams are slow and blurry with a message "For HQ enable DMZ on your router", turn on the DMZ function on your router.

This has to be done on both sides: on the side of the person who turns on the webcam AND on the side of the person who is watching the webcam.

Type on google "DMZ" as well as your router model and you will easily find a procedure to follow. Some game consoles also need this setting to work in multiplayer mode.


---

Allow webcams on your land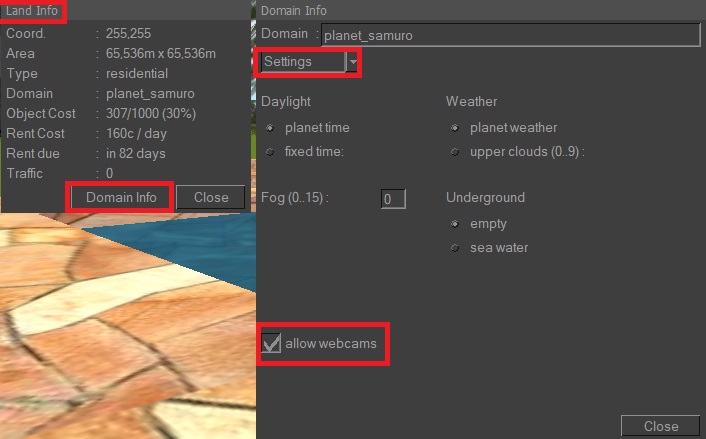 The land owner must allow webcams in the Domain Info menu.


---